The popularity of high CBD hemp oil has grown since the CNN Dr Gupta "Weed" show captured the miraculous story of 5-year-old Charlotte whose seizures  nearly ceased altogether with the orally-administered concentrate.
CannaVest's strain "CBD Simple" also took top honors at the 2013 Michigan Medical Marijuana Conference "Green Cup" contest for Highest CBD Concentrate. CannaVest, a maker and distributor of hemp and Cannabidiol-based products, won the CBD concentrate category at the 2014 Michigan Medical Cannabis Cup for  the fourth time = first place in that High Times Cannabis Cup category.

"The benefits are calmness, better sleep, less joint pain with both of my knees, and I was bitten by a snake last month. I used the oil topically on the area I was bitten. It's remarkable the difference in the wound. It's healed. Mike is highly educated in the proper components, within the law, and has done a great job. " Sue R, RN Westfield, NJ
These forms of cannabinoids provide several advantages over inhaling marijuana and other cannabinoid delivery systems:
1. No prescription
2. Non-GMO and gluten-free
3. Amount of cannibinoids are known
4. Safe for pets
5. Easy to administer
6. No need to relocate a family
7. Free from psychoactive response no THC
8. No smoke no smell no accessories
9. Add to cookies, drinks, coffee, tea, apple sauce, smoothies.
10. Shipping to USA, EU, UK [except Spain]
"Mike,
 I just want to tell you what a difference your CBD oil has made in my overall well being , and sleep! I have been dealing with health and anxiety issues for quite a while now [PTSD]and my health has suffered from not having a good nights sleep. Since taking the CBD's for a couple weeks now I've had some of the best REM sleeps I've had in years. I wake up energized and ready to take on my days tasks whatever they may be with a calm energy and focus. I can tell you how good I've been feeling. I will continue taking your CBD oil , and looking forward to this product playing a major role in getting me back to optimum health and well being!"
                                   Nick V. retired police officer, Cleveland , Ohio
Plus CBD Sprays

  MSRP $63.95* Your Price

$56.40*



Our Plus CBD Sprays deliver innovative, cannabidiol-rich (CBD) hemp oil in a great tasting sublingual delivery system…a revolutionary shift in plant-based, natural nutritional supplementation.

60 ml 2 ounces 500mg Cannabidiols

2 Sprays = 3 mg cannabidiols to be used under the tongue, then swallow
10 grams PlusCBD™ Hemp CBD Oil per serving
Gold Label 25% CBD - ten pack 40 servings 250mg CBD/1 ml serving
Highest quality CBD in the industry.
MSRP = $249.95 Your Price $220.00
Vegetarian 60 softgels with exactly 15 mg CBDs each.
MSRP = $76.46  Your Price = $62.99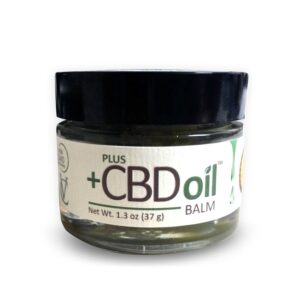 +CBD Salve      MSRP $35.00  Your Price $29.75

+CBD Oil's Hemp Salve 50mg CBD can 1.3oz

All-natural CBD oil

More essential oils and natural extracts than any other CBD topical

Smooth, thick consistency

Protects against severe dryness

Relaxing and rejuvenating

Perfect for sore muscles and joints

Anti-inflammatory

Natural analgesic
Rub +CBD Oil's Hemp Salve on the desired areas and instantly feel the effects of hemp oil on your body as you delight in the natural scent of the salve's numerous extracts and essential oils
Ingredients: Camphor, Prunis Sulcis (Almond) Oil, Cera Alba (Beeswax), Candelilla/Jojoba/Rice Bran Polyglyceryl-3 Esters, Glyceryl Stearate, Cetearyl Alcohol, Sodium Stearoyl Lactylate, Hemp Oil, Herbal Extract [Cortex Mountain Radicis, Radix Salviae Miltiorrhizae, Folium Mori Albae, Radix Ginseng, Cortex Lycii Radicis, Radix Ledebouriellae Divaricatae, Rhizoma Zimgiberis Officianalis Recens (Ginger Root)], Mentha Piperita (Peppermint Oil) Cannabis Sativa (Hemp) Seed Oil.
Email or text to me your desired order and PayPal email account and I will send to you an invoice for you to verify: 9545341887 mikemenkes@yahoo.com
$10 Shipping USA/POB/APO
European Union/UK - add $18.00 shipping

Doctor Energy
2221 NE 164 Street
#367
North Miami Beach FL 33160
954 534 1887 mikemenkes@yahoo.com
http://www.positivehealth.com/author/mike-menkes

OUR COMMITMENT
At CannaVest, we believe that the future of hemp is unlimited. Through innovative and responsible application of science, we will enhance the prosperity and well-being of our customers, employees, communities and shareholders. We are committed to pioneering the hemp revolution as the world's leading producer of quality hemp-derived CBD products.
DOCTOR ENERGY DOES NOT SELL OR DISTRIBUTE ANY PRODUCTS THAT ARE IN VIOLATION OF THE UNITED STATES CONTROLLED SUBSTANCES ACT. THE COMPANY DOES SELL AND DISTRIBUTE FULLY TESTED 100% LEGAL HEMP-BASED PRODUCTS.
These statements have not been evaluated by the FDA and are not intended to diagnose, treat or cure any disease. Always check with your physician before starting a new dietary supplement program. Links to any external or informational websites or publicly accessible YouTube videos are provided solely as a service to our users.