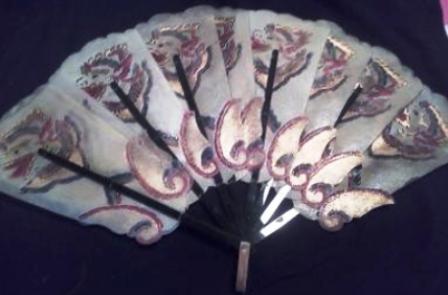 This large beautiful Thai fan was purchased more than 35 years ago in Thailand by the donor. It is made of very thin, translucent cow leather that has been cut and hand painted.  The Boquete resident donated it to the Handicap Foundation because she is wanting to downsize her collection of antiques and collectibles. The fan is in perfect condition.
If you were going to frame this fan, the frame would have to be more than 26" wide and more than 16" high.
A similar leather Thai fan is listed for sale on the internet for $200. The Boquete Handicap Foundation would like to get $75 for this beautiful pieces. Email Penny at pjbarrett@aol.com or text WhatsAp 6510-8934.